We may encounter perforated metal sheets in countless forms and sites. The product can surely be found in the construction industry, machine manufacturing, and agriculture but even in food industry in some form
We can ensure a wide range of perforation possibilities, as we offer metal sheets with circular, rectangular or oval perforations, with linear or diagonal layout, including the decoration types as well. We manufacture sheets differing from the standard, with special dimensions and perforations, too. Our sheets with the raw material being carbon steel, galvanized, aluminium and stainless steel with the thickness in the range of 0..5-5 mm can be obtained from our warehouse.
Most common usages of the perforated metal sheets:
CONSTRUCTION INDUSTRY – building of false ceilings, external and internal railing elements, facade coverings, sound protective walls, ventilation grids, shadings, fences,
EXTERNAL AND INTERAL ARCHITECTURE – formation of dividing walls, shop equipment, street furniture, radiator coverings, elements with lighting and aesthetic role,
AIR CONDITIONING TECHNOLOGY – coverings for heating and cooling radiators, filter cartridges, ventilation grids,
FILTER TECHNOLOGY – liquid and air filters,
FOOD INDUSTRY – storage tanks, cups, sieves, devices for the brewing industry,
MACHINE INDUSTRY – aesthetic, protective and machine coverings,
AGRICULTURE – MEZŐGAZDASÁG – grinding pads, seed cleaning grinders, combine strains, vine presses,
AUTOMOTIVE INDUSTRY – JÁRMŰIPAR – at the manufacturing of exhaust mufflers, radiator grilles, filter inserts, component transport containers.
Basic perforation types -> more
Circular perforation types
w – diameter of the hole; t – distance between the centers of the holes
Rectangular perforation types
w – diameter of the hole; t – distance between the centers of the holes
Other basic perforation types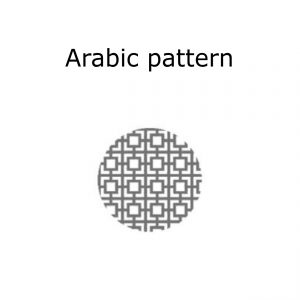 Special perforation types -> more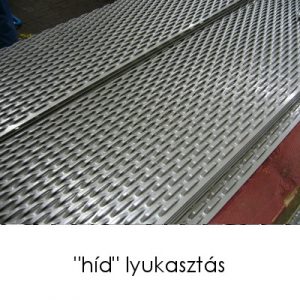 1. Raw material: DC01 or DD11 unalloyed steel; dimension: 1000x2000 mm -> more
On stock:
| perforation type / thickness | 1 mm | 1,5 mm | 2 mm | 3 mm | 5 mm |
| --- | --- | --- | --- | --- | --- |
| RV 1-2 | • | | | | |
| RV 1,25-2,3 | • | | | | |
| RV 1,5-2,5 | • | | | | |
| RV 2-3,5 | • | • | | | |
| RV 3-5 | • | • | • | • | |
| RV 3,5-5,5 | | | | • | |
| RV 4-6 | • | • | • | • | |
| RV 5-8 | • | • | • | • | |
| RV 6-9 | • | • | • | • | |
| RV 7-10 | • | | | | |
| RV 8-11 | • | | | | |
| RV 8-12 | • | • | • | • | |
| RV 10-14 | • | | | | |
| RV 10-15 | • | • | • | • | • |
| RV 11-14 | • | | | | |
| RV 12-16 | • | • | | | |
| RV 15-20 | • | | • | | |
| RV 18-26 | | | | • | |
2. Raw material: DC01 or DD11 unalloyed steel; dimension: 1250x2500 mm -> more
On stock:
| perforation type / thickness | 1 mm | 1,5 mm |
| --- | --- | --- |
| RV 5-8 | • | • |
3. Raw material: DX51D pre galvanized steel; dimension: 1000x2000 mm -> more
On stock:
| perforation type / thickness | 0,75 mm | 1 mm | 1,5 mm |
| --- | --- | --- | --- |
| RV 3-5 | • | | |
| RV 5-8 | • | • | • |
| RV 8-11 | | • | |
4. Raw material: DX51D pre galvanized steel; dimension: 1250x2500 mm -> more
On stock:
| perforation type / thickness | 1 mm |
| --- | --- |
| RV 5-8 | • |
5. Raw material: EN-AW 1050A aluminum; dimension: 1000x2000 mm -> more
On stock:
| perforation type / thickness | 1 mm | 1,5 mm | 2 mm |
| --- | --- | --- | --- |
| RV 3-5 | • | | |
| RV 5-8 | • | • | • |
6. Raw material: 1.4301 stanless steel; dimension: 1000x2000 mm -> more
On stock:
| perforation type / thickness | 0,6 mm | 0,8 mm | 1 mm | 1,5 mm | 2 mm | 3 mm |
| --- | --- | --- | --- | --- | --- | --- |
| RV 0,8-1,5 | • | | | | | |
| RV 1-2 | | • | • | | | |
| RV 1,5-2,5 | | | • | | | |
| RV 2-3,5 | | | • | | | |
| RV 3-5 | | | • | • | • | |
| RV 5-8 | | | • | • | • | • |
| RV 8-12 | | | • | • | | |
| RV 10-15 | | | • | • | | |
Stock of QG rectangular perforated type sheets
1. Raw material: DC01 or DD11 unalloyed steel; dimension: 1000x2000 mm -> more
On stock:
| perforated type / thickness | 1 mm | 1,5 mm | 2 mm |
| --- | --- | --- | --- |
| QG 5-7,5 | • | | |
| QG 8-10 | • | | |
| QG 8-12 | • | • | |
| QG 10-12 | • | • | • |
| QG 10-14 | • | | |
| QG 10-15 | • | • | • |
2. Raw material: EN-AW 1050A aluminum; dimension: 1000x2000 mm -> more
On stock:
| perforated type / thickness | 1 mm |
| --- | --- |
| QG 5-7,5 | • |
| QG 10-15 | • |
3. Raw material: 1.4301 stanless steel; dimension: 1000x2000 mm -> more
On stock:
| perforated type / thickness | 1 mm | 1,5 mm | 2 mm |
| --- | --- | --- | --- |
| QG 5-7,5 | • | | |
| QG 10-12 | • | • | |
| QG 10-15 | • | • | • |
Stock of RG circular perforated type sheets
1. Raw material: DC01 or DD11 unalloyed steel; dimension: 1000x2000 mm -> more
On stock:
| perforated type / thickness | 1 mm |
| --- | --- |
| RG 4,5-15 | • |
Stock of decor perforated type sheets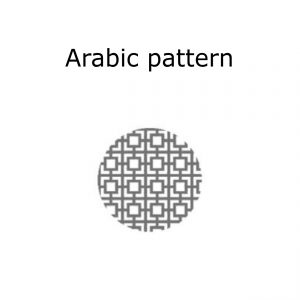 1. Raw material: DC01 or DD11 unalloyed steel; dimension: 1000x2000 mm -> more
On stock:
| perforated type / thickness | 0,8 mm | 1 mm |
| --- | --- | --- |
| shamrock pattern with circle | | • |
| shamrock pattern without circle | | • |
| Arabic pattern | • | |